Optimize Your Post-Wedding Workflow
No longer lag behind on delivering galleries to your clients //
This article includes discount codes / referral links from a number of companies. I may earn a commission from qualifying purchases.
Please read my Referral Programm / Affiliate Disclosure for more information.
Especially for those of us in Europe and Northern America, we are in the height of the wedding season – and for many that usually means busy, busy, busy. But the good news is that there are ways to reduce that feeling of overwhelm and drowning in work.
I am certainly not perfect at this, but I have come a long way from the days where I barely saw the sunlight during the week in the summer because I was glued to my computer screen. Over the years, I have optimized my workflow which allows me to deliver galleries in good time while enjoying the lake with my husband and two kids – we actually even manage to take trips as a family during the summer!
Hi, I am Aida, host of My Wedding Season -The Podcast!
If you prefer listening, this blog post is also available in audio format on my podcast: Episode 33.
3 WAYS TO HELP YOU IMPROVE YOUR POST-WEDDING WORKFLOW
1. GET BETTER ORGANISED
My recommendation to you is to take some time to map out all your upcoming weddings. I normally do this before the start of the wedding season, but it is not too late for you to do it now. This enables you to visualize how much work is ahead of you and how you can best go about delivering the galleries to your clients in a timely manner.
For some of you, it might be beneficial to outsource the editing portion of the process. I say this because editing is one of the most popular elements that is outsourced but there are other aspects of the process that can also be outsourced, like, blogging or social media posts.
There are also different steps of the process that can be simplified, streamlined and/or automated. And like always, figure out which tools work best for you and your business. I am just here to share different options with you.
2. TOOLS TO HELP YOU IMPROVE YOUR WORKFLOW
The list that I am going to provide you with is detailed, but not necessarily comprehensive.
CRM (CLIENT RELATIONSHIP MANAGEMENT)
The first tool that I am going to present to you can prove to be an absolute game changer for you during the entire client journey. I am talking about a CRM software – which stands for Customer Relationship Management.
Using a CRM allows you to manage your interactions with your clients all in one place.
Disclaimer:
I want to take a moment to say throughout this article, I will describe what the companies do using their own words, as written on their websites. In this article, I will share discount codes or referral links for some of the companies (Referral Programm / Affiliate Disclosure) – in this case, I may earn a commission on qualifying purchases, but without any cost to you. I mean, affiliate marketing and partnering with companies is just one of the ways I can keep producing thisvaluable content for you for free. I call it a win-win. Be sure to check back to this page in the future, because I may add more companies and discount codes. And please note that I have added the companies in no particular order.
CRM COMPANIES FOR WEDDING PHOTOGRAPHERS
Dubsado helps your business stay in motion. Build relationships, schedule appointments, and create workflows to streamline your projects from start to finish.
Get 20% off your first month or year with the code: aida20 or use the link: dubsado.com/?c=aida20
Everything your business needs to get it done. Manage projects, book clients, and send invoices and get paid – all on HoneyBook.
Manage your small business with 17hats, the platform that grows with you. Automate the tasks that steal your time.
Now, I want to focus on different aspects involved in the post-wedding workflow.
I will provide you with advice from how I work as well as share several other options that are available to you.
I. BACK-UP THE IMAGES
What I love to do before my wedding season kicks-off is to set-up all my electronic folders for the year. I make sure that I have enough external hard drives to back-up my work and label everything appropriately. That way, I do not have to think of it in the midst of the wedding season.
The very first thing I do after a wedding is import and back-up my memory cards. I have a RAID drive onto which I copy the cards which means that my data is automatically mirrored onto two hard disks. I then keep the memory cards in a safe place (without deleting the images) until I have delivered the gallery. You can also back-up your images on the cloud e.g. GoogleDrive. Always make sure that wherever you store your images, your client data is well-protected.
There are a number of hard drives on the market that are worth checking out, but make sure that you do your own research before making a purchase. It is worth considering if you are mainly at home, in this case you can just get a standard external hard drive, or traveling, for which a portable hard drive makes more sense.
These are just a few examples that I am providing you with below.
Referral Programm / Affiliate Disclosure
As an Amazon Associate I earn from qualifying purchases.
I get commissions for purchases made through links in this post.
EXTERNAL HARD DRIVES FOR WEDDING PHOTOGRAPHERS
i. WD My Book Duo Desktop RAID External Hard Drive
ii. SanDisk Professional g-RAID 2-Bay Thunderbolt 3
iii. LaCie d2 Professional 10TB 3.5 External Hard Drive
PORTABLE HARD DRIVES FOR WEDDING PHOTOGRAPHERS
ii. Seagate Ultra Touch HDD 2TB
II. CULL THE IMAGES
I personally use Adobe Bridge to cull through my images. I give 1 star to all the images that I want to edit. I then copy over these images onto another internal hard drive. This is the hard drive I will use when I am editing the images. Many photographers that I know use Lightroom to cull through their images.
I am one of those people who doesn't have trouble culling through images. One of the reasons for it is that I usually cull anywhere between 24-48 hours after a wedding. That means that the wedding is still fresh in my mind and I already have a good idea of the photos that I want to keep and edit.
But if you struggle with culling and find it to be too time-consuming, there are a number of softwares available that help make it easier and speed up the process:
CULLING SOFTWARES FOR WEDDING PHOTOGRAPHERS
Narrative Select is our game-changing, image culling software, powered by smart tech & designed from the ground up for the modern photographer.
Aftershoot is the fastest and easiest way to automatically select, rate and find your best photos.
NEW: AfterShoot EDITS is here!!
If you are eager to give AfterShoot a try, I got you!
You can first give it a try for FREE for 30 days: AfterShoot
Get an AfterShoot Culling & EDITS lifetime subscription for only $499/year –
offer valid until May 31, 2023!!
You can use this link: https://edits.aftershoot.com/founders-deal/?ref=aida10
3. PHOTO MECHANIC: Is the World's Fastest Digital Photo Handler
Use Photo Mechanic to view, organize, manage, and export digital photos.
III. EDIT THE IMAGES
For editing my images, I use Adobe Camera Raw. They are constantly making updates to it and I simply love it! Similarly, there are many photographers who use Lightroom.
It goes without saying that using a good preset speeds up the editing process. My husband Tim and I use a custom-preset that we have tweaked over the years. But I have to admit, if we were in a situation where the light was not ideal and the white balance was way off, the editing process takes a little longer.
Generally, my advice to you is, whenever possible try your best to reduce the need for extra editing work while you are shooting. For example, if you are photographing a couple outdoors on a path and there happens to be a trash can next to them, reposition them so that you do not have it in the frame instead of having to stamp it out in post. At least that is what I do!
EDITING SOFTWARES FOR WEDDING PHOTOGRAPHERS
Capture One is a photo editing software, developed by Phase One. In addition to image editing it performs image cataloging, raw image processing, and tethered photography.
The fastest way to edit photos. AI-powered batch photo editing desktop app for Adobe Lightroom Classic workflows.
EDITING COMPANIES FOR WEDDING PHOTOGRAPHERS
Custom Photo Editing Services for Portrait & Wedding Photographers
Get 50% off on your first order of $30 or more with the code: AIDAGET50
Your High Touch Creative Partner – Outsource Without Compromise
Your Photos Perfected – A team of expert photo editors serving wedding photographers worldwide.
IV. DELIVER THE IMAGES
Long gone are the days when I used to mail USB-sticks to my clients. It was so inconvenient and time-consuming. Most importantly, it was not the way that I wanted to present my work. Yes, I know that wooden boxes were popular – or are still popular, but it's not for me. I am currently using Pic-Time to deliver my galleries and am so happy with the minimalistic look, the features and customer service.
I have even taken the step to partner with Pic-Time because I believe in their mission and they truly have photographers in the forefront when developing their products and services. For example, I am currently obsessed that they recently added slideshows as a free add-on for everyone! And they make selling prints so much easier with their automation tools!
You can actually tune into Episode 21 of this podcast with Nirit and Amir, the founders of Pic-Time, where we talk about "Enhancing Client Experience After the Wedding". And as an affiliate, I am able to provide you with a discount code "AIDA" for one month free when you upgrade to a paid plan.
PHOTO DELIVERY GALLERIES FOR WEDDING PHOTOGRAPHERS
Elevate your photography to a successful business. Pic-Time offers the finest in both technology and design – using a unique and smart uploader, AI store technology, and powerful marketing automation tools.
Earn 1 month free when you upgrade to paid plan: AIDA
Beautiful client photo gallery designed for professional photographers to host, share, deliver, proof and sell online.
Stunning client photo galleries designed to make image delivery effortless.
V. ALBUM DESIGN
In the past, I used to design albums manually using the softwares of whichever album company I was using at the time. It was such a drag to say the least. All that changed when I came across SmartAlbums! Their designs are so modern and simplistic – it totally matches my style. And most of all it is intuitive to use! Now, I am able to send my clients a preview of their album within a couple of hours from when I started to design it. I honestly haven't really heard of another company that people are raving about in our industry so this is the only one that I am presenting to you.
ALBUM DESIGN SOFTWARE FOR WEDDING PHOTOGRAPHERS
SmartAlbums is a simple and powerful album builder for photographers. Every layout in SmartAlbums is handcrafted by a graphic artist, putting thousands of professionally designed templates at your fingertips.
Get 15% off all plans (monthly and yearly) by using this code: AIDA15 or this link: https://www.pixellu.com/?fpr=aida38
VI. BLOGGING
I personally only blog a few sessions a year since the majority of my clients prioritize the privacy of their intimate wedding or elopement. Therefore, building a blog directly from the back-end of my website works well for me – who knows, that may change in the future.
BLOGGING SOFTWARES FOR WEDDING PHOTOGRAPHERS
Build beautiful SEO friendly blogs that load fast, blend seamlessly into your website and look great on every device.
They have a blogging feature coming out soon and I expect it to be awesome!
IMAGE SIZE REDUCTION SOFTWARES
Before I conclude this article, I want to give some honorable mentions to Rawsie & Jpegmini.
Rawsie is a professional software for photographers allowing raw image compression with no quality compromise.
Using patented image optimization technology, JPEGmini reduces the file size of your photos significantly (up to 80%), while preserving their full resolution and quality.
Additionally, I would like to inform you that it is not too late to download My Wedding Season Planner 2023. If you didn't know already, the digital planner is available to you for free. I have custom-designed it for overwhelmed wedding photographers who are feeling stressed out because they are struggling to stay organised, keep track of their client work and reach their goals.
In direct relation to the topic of this article, in the planner, there is space for you to track your post-wedding workflow for up to 30 clients.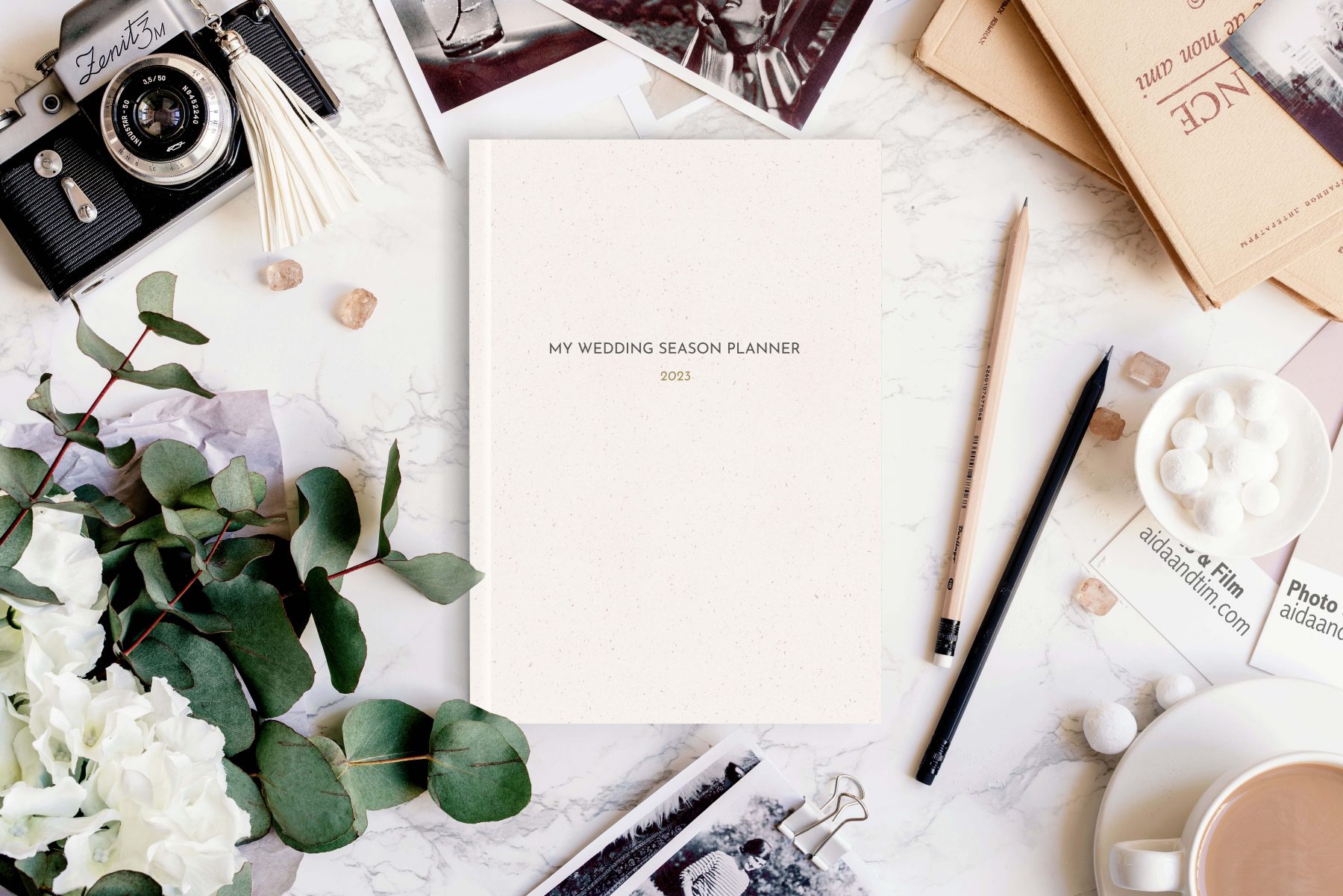 3. TIPS FOR THE FUTURE
There are a few things you can do this year to set yourself up better for next year!
1. SET BOUNDARIES
Think about the areas in your personal life and business where you need to set boundaries. Because boundaries give you back a peace of mind, time and freedom. This could include: office hours, saying no to things that do not serve you and your business, and not taking on more work than that which you can handle.
2. READJUST YOUR PRICING & PACKAGES
Is it possible that you are constantly taking on too many bookings? If so, could it be time to raise your prices? How about reevaluating your packages? What are you offering that may be adding to your overwhelm? Are you working way too many long hours? Assess and analyze where you can make tweaks, or even completely rework, your pricing and packages. Sometimes it might even take a complete rebrand.
If you are feeling stuck on this point, consider getting in touch with me to Book a Clarity & Action Session. Starting November 2022, I will be opening up my calendar for coaching sessions. I simply love this stuff! My coaching sessions are under the "done-with-you" concept where I help you gain clarity on the topic at hand during our session and assist you in creating an action plan to reach your goal. And I make sure that it is tailored to suit your needs and fit your business, because who needs blanket advice?
3. TAKE BREAKS
Taking breaks applies to your day, your week and the wedding season. Make sure that you are not just working non-stop. That is the opposite of being productive and can lead to burn out. Like they say, work smarter, not harder. And if you can afford to, block out a couple of weekends during the wedding season where you can just rest or even take a trip. Ever since my husband and I started doing this, we have been enjoying the wedding season so much more. After we come back home after a trip, we are feeling refreshed and excited for up-coming weddings. Not only is that great for us, but also for our couples because we are able to capture their special day feeling inspired and energized.
I truly hope that you found this article helpful! I would highly appreciate it if you would share it with your fellow photographer friends.
If you have any questions or comments, just hit me up on Instagram @aidaglowik
Cheering you on,
Aida
---
BUILD A THRIVING BRAND & BUSINESS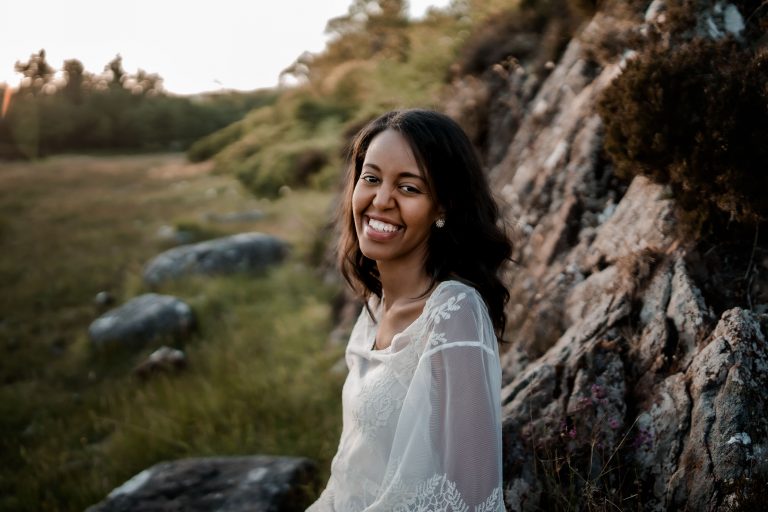 My Wedding Season – The Podcast
Welcome to "My Wedding Season – The Podcast" where I provide overwhelmed wedding photographers with the inspiration, tools and resources needed to build a thriving brand and business. I am your host, Aida Glowik, a European intimate wedding and elopement photographer based in Germany.
This podcast is for wedding photographers who are feeling overwhelmed by the challenges that come along with doing life, building a brand and running a business. On solo shows, I address various topics including, but not limited to: branding & marketing, organisation & productivity systems as well as income generating business strategies.
Guest interviews are centered around exploring their creative processes and insights regarding photography and/or business! Can't wait for you to hear from so many talented and inspirational people from around the world!
A new episode drops every two weeks on Wednesdays!
Are you in? Get ready to take some notes…
52. Lexi Heimdal – Junebug Weddings | Getting Published & Photography Awards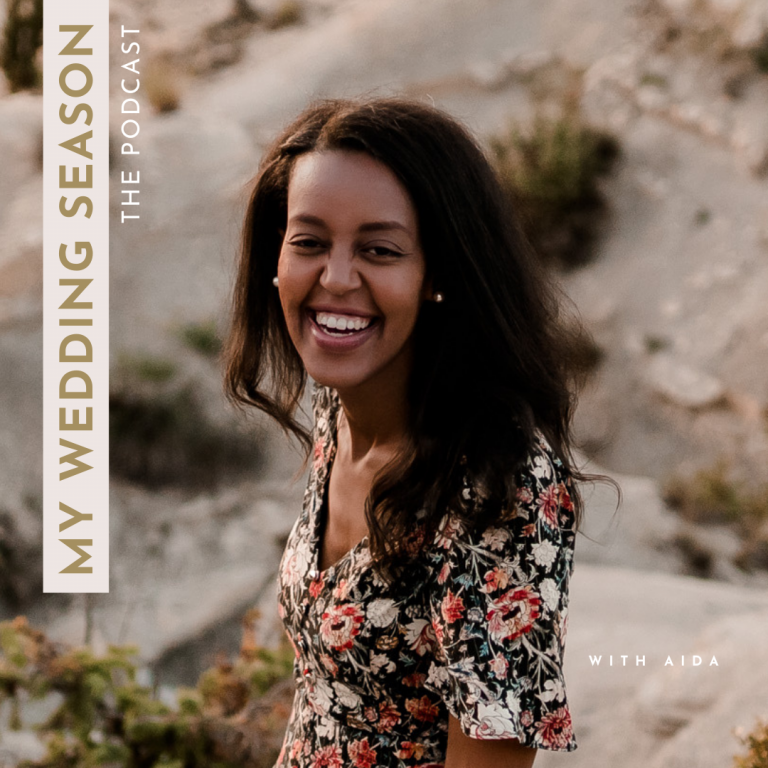 Search Results placeholder
---
My Wedding Season Planner is custom-designed to help overwhelmed wedding photographers who are feeling stressed out because they are struggling to stay organised, keep track of their client work and reach their goals.

This 2023 version of the planner is made available to you for FREE as a pdf download!
For more details about the planner: www.wedding-photography-podcast.com/planner

Share the love and invite your photographer friends to get a copy by sending them this link: http://eepurl.com/hSBmWj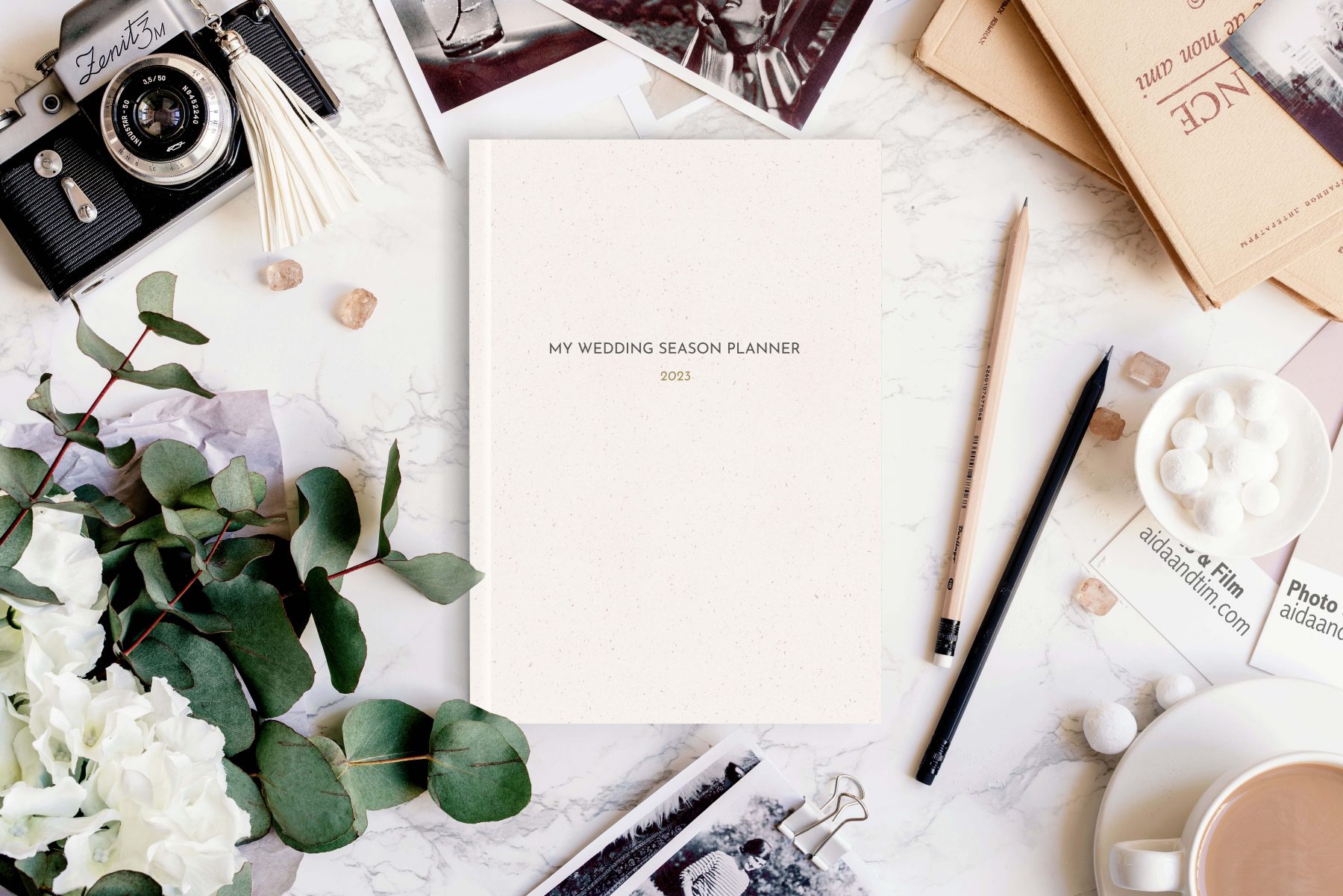 ---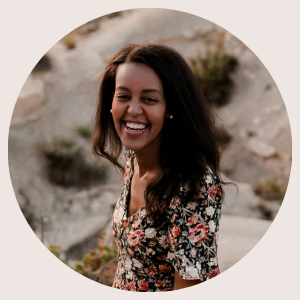 AIDA GLOWIK

PHOTOGRAPHER & PODCASTER
I specialise in European intimate weddings & elopements.
I provide overwhelmed wedding photographers with the inspiration, tools and resources needed to build a thriving brand and business.
---
FOR WEDDING PHOTOGRAPHERS
If you are feeling overwhelmed by the challenges that come along with building a wedding photography brand and running a business, you are not alone!
The good news is, there is no need to stay stuck any longer! I can help you gain clarity and assist you in creating an action plan to achieve your goal.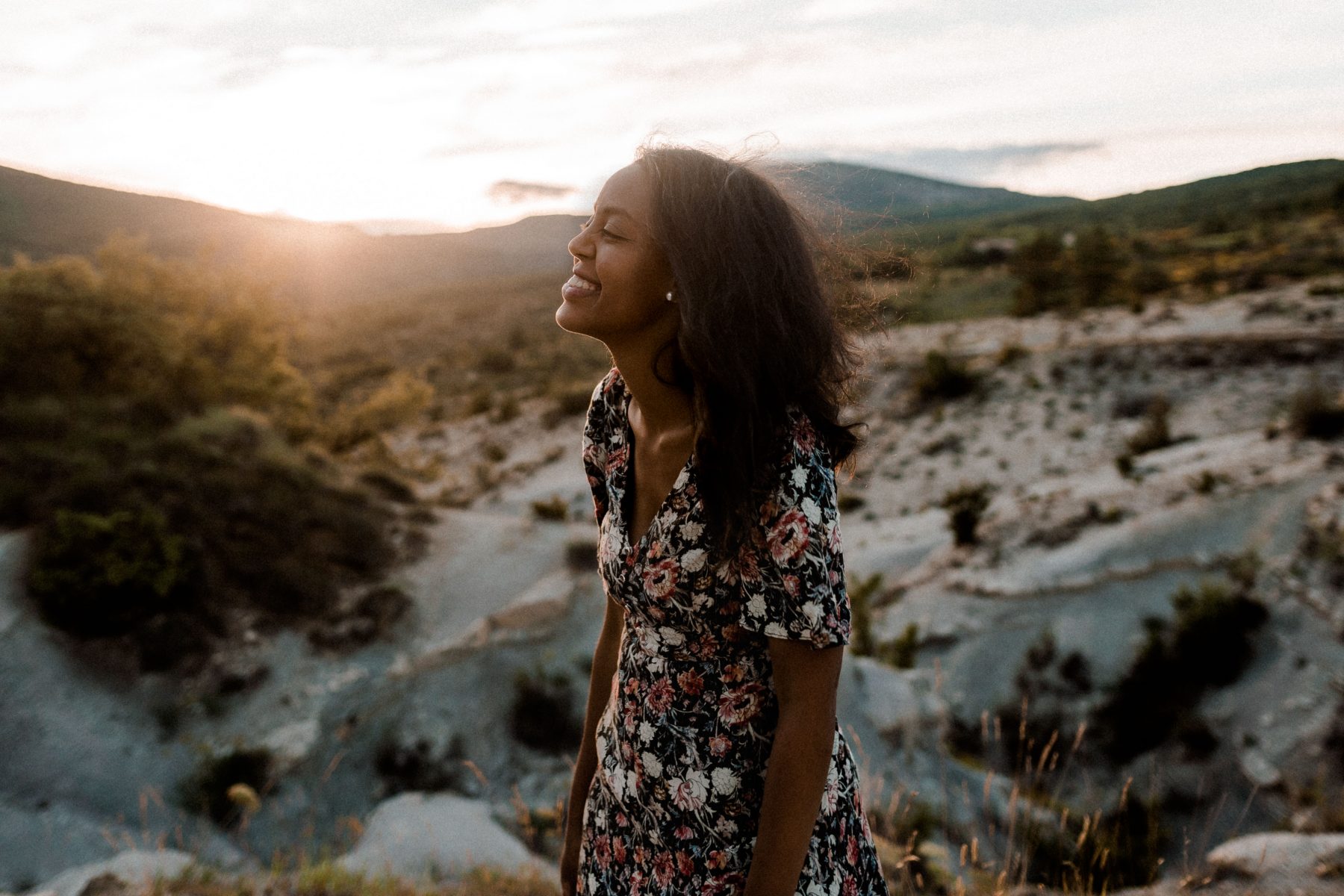 MORE BEHIND THE SCENES & VALUE ON INSTAGRAM